Saving Monticello: The Newsletter
The latest about the book, author events, and more
Newsletter Editor - Marc Leepson
Volume XII, Number 8 August 1, 2015
THE MIKVEH ISRAELS:
The Levy family had close associations with two pioneering American Hebrew congregations called Mikveh Israel. Last month I included a terrific photo by SM Newsletter subscriber Lorri Mills of the inside of Mikveh Israel in Savannah—the third oldest Jewish congregation in America. Uriah Levy's great great grandfather, Dr. Samuel Nunez, was among the founders of Mikveh Israel in Savannah.
Dr. Nunez, a physician who opened the first pharmacy in Georgia where he specialized in making medicines out of imported and native-grown herbs, was a close friend of the founder of the Methodist Church, John Wesley. Dr. Nunez also was a crypto Sephardic Jew who had escaped the Spanish Inquisition in Lisbon with his family, fled to London, and came to the colony of Georgia with several other Jewish families in June of 1733.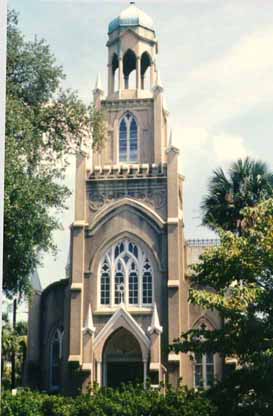 Samuel Nunez helped found Mikveh Israel in Savannah (above) in July 1735. To this day the congregation uses the Torah that was brought to Savannah by Dr. Nunez and the other Jews who settled the city in 1733.
| | |
| --- | --- |
| Uriah Levy's immediate family worshipped at Mikveh Israeli in Philadelphia, where he was born in 1792. Mikveh Israel in Philadelphia was founded in 1740 and bills itself as the "Synagogue of the American Revolution," the "oldest formal congregation in Philadelphia," and the "oldest continuous synagogue in the United States." | |
As I noted in Saving Monticello, Uriah Levy's maternal grandfather, Jonas Phillips, was instrumental in raising funds to purchase a new building for Mikveh Israel synagogue in Philadelphia in 1782. He later was elected the president of the Congregation. As the head of the congregation, Jonas Phillips (a Revolutionary War patriot who served in a local militia unit) invited George Washington to attend the dedication ceremonies of its new building.
I had had the pleasure of taking part in ceremonies in 2011 dedicating a statue to Uriah Levy outside Mikveh Israel. The Congregation is in Center City Philadelphia not far from many historic sites, including Christ Church, the Betsy Ross House, Independence Hall and the Liberty Bell—and the
National Museum of American Jewish History.
We were in Philly last month for a wedding and I took these pics of the statute:
EVENTS:
Nothing scheduled for the month of August, as I am concentrating on my next book, a biography of Barry Sadler, the Green Beret Army Sergeant who wrote and performed "The Ballad of the Green Berets," the No. 1 song of the year 1966.
If you'd like to arrange an event for any of my books, email
marc527psc@aol.com
For more details on upcoming events, go to
http://bit.ly/SMOnline
, the "Author Events" page on my website,
www.marcleepson.com
Facebook, Twitter:
If you're on Facebook, please send me a friend request. If you're on Twitter, I'd love to have you as a follower.
Gift Ideas

:

If you would like a personally autographed, brand-new paperback copy of

Saving Monticello

, e-mail me at

Marc527psc@aol.com
Or go to
http://marcleepson.com/signedbooks.html
to order copies through Second Chapter Books in Middleburg, Virginia. We also have copies of
Desperate Engagement
,
Flag
,
Lafayette
,
and
What So Proudly We Hailed.