Saving Monticello: The Newsletter
The latest about the book, author events, and more
Newsletter Editor - Marc Leepson
Volume XIV, Number 8 August 1, 2017
SEQUESTRATION:
On August 30, 1861, the Confederate Congress passed a bill called the Sequestration Act. It called for the confiscation of all property owned by northerners in the eleven Confederate states, and the sale of that property to southerners.
In the law's words, all "lands, tenements and hereditaments, goods and chattels, rights and credits… held, owned, possessed or enjoyed by or for any alien enemy since the twenty-first day of May, [1861]" would be "sequestrated by the Confederate States of America" and be made available to "any true and loyal citizen or resident" of the Confederacy.
Monticello and all of its adjacent Virginia land certainly fit in that "alien" category as its owner Uriah Levy was a resident of New York City—and was serving in the U.S. Navy. As I wrote in Saving Monticello, proceedings began to sequestrate Monticello on October 10, 1861, "as the property of an alien enemy," according to an article in the Richmond Examiner.
Monticello "has been confiscated," Frank Leslie's Illustrated Newspaper of New York City reported, "with all its lands, negroes, cattle, farming utensils, furniture, paintings, wines, etc., together with two other farms belonging to the same owner, and valued at from $70,000 to $80,000." The National Republican (a pro-Lincoln paper) of Washington D.C., put is less delicately, as you can see in the "Sequestration of the Monticello Estate" clipping above.
Uriah Levy fought the sequestration order. After he died on March 26, 1862, the executors of his estate kept up the fight. Meanwhile, The National Republican also claimed that the house was occupied by Uriah brother, Jonas Levy, "who is alleged to be disaffected towards the Confederate Government."
That was not true. Jonas Levy was, in fact, was cozying up to the Confederate government. He filed a petition asking for a "modification of the sequestration law" to allow him—a resident of the Confederacy, he said—to inherit Monticello.
"I am a loyal citizen of this Confederacy," Jonas Levy said, in claiming to be his brother's only heir living in the South.
The petition was denied.
The sequestration order finally was approved in the fall of 1864, and Monticello was sold by the Confederate government on November 17 to colorful Lieutenant Col. Benjamin Franklin Ficklin (below) of the the 50th Virginia Regiment for $80,500 in Confederate money.
Ficklin, as I wrote in the book, led an amazingly varied and adventurous life. A noted prankster at the Virginia Military Institute, he fought in the Mexican War, taught at a boys' school in Abingdon, Virginia, and in 1860 came up with the idea for a fast new overland operation that would deliver mail and news between St. Joseph, Missouri, and San Francisco.
The company he worked for called it the Pony Express and gave Ficklin the job of organizing the huge operation. He set up 190 relay stations along the nearly 2,000-mile route, bought 500 horses, and signed on eighty riders.
Shortly after the war ended, Ficklin was in Washington, D.C., where he was arrested—wrongly, it turned out—on April 16, 1865, for being involved in the assassination of President Lincoln. He died at age 44 in 1871 while dining at the Willard Hotel in Washington when a fishbone lodged in his throat and the doctor who tried to remove it severed an artery.
That was six years after Ficklin had had to give up Monticello after owning it for only a few months. The estate then returned to the Levy family.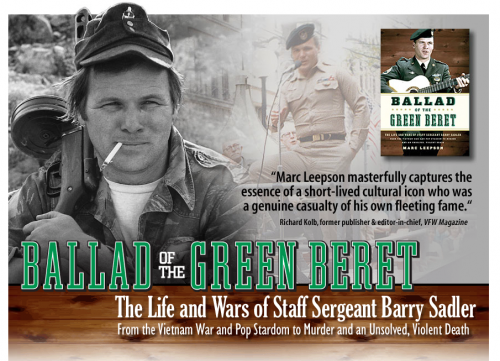 EVENTS
:
My new book,
Ballad of the Green Beret
, the first-ever biography of Barry Sadler, has been getting some buzz since it was published May 1. For info
,
go to
http://bit.ly/GBBallad
I have one in-person event in August:
Saturday, August 12 – I'll be signing books at Vietnam Veterans of America's National Convention at 11:00 a.m. at the Sheraton in downtown New Orleans.
If you'd like to arrange an event for Saving Monticello—or for any of my other books, including Ballad of the Green Beret—please email me at marc527psc@aol.com
GIFT IDEAS

:

If you would like a personally autographed, brand-new paperback copy of

Saving Monticello

, e-mail me at

Marc527psc@aol.com

I also have a few as-new, unopened hardcover copies. Or go to

marcleepson.com/signedbooks.html

to order copies through my local bookstore, Second Chapter Books in Middleburg, Virginia. We also have copies of

Desperate Engagement

,

Flag

,

Lafayette,

and

What So Proudly We Hailed,

and

Ballad of the Green Beret.