Saving Monticello: The Newsletter
The latest about the book, author events, and more
Newsletter Editor - Marc Leepson
Volume XV, Number 9
September 1, 2018
"
The study of the past is a constantly evolving, never-ending journey of discovery." – Eric Foner
CLEVELAND AT MONTICELLO:
Speaking of a discovery, I had a delightful one a few days ago while going through 19
th
century newspapers on the Proquest Historical Newspapers digital archive, a version of which my local library in Loudoun County, Virginia, provides to all library card holders.
I found a long Washington Post article that describes in detail an event that took place at Monticello in 1888 that I had never run across before: the June 27th visit by President Grover Cleveland.
I had thought—and said so countless time in talks I've done on
Saving Monticello
—that only one U.S. President had visited from 1834-1923 when Uriah Levy and Jefferson M. Levy owned the place. That was Theodore Roosevelt, who rode up the mountain on horseback on June 17, 1903. I describe that memorable occasion in the book.
As I wrote, TR had been in Charlottesville attending commencement ceremonies at the University of Virginia, arriving by special train from Washington. On his ride up the mountain Roosevelt "wore riding britches, puttees, an easy coat, and well beaten hat, modified [Rough Rider style]," a witness reported. Jefferson Levy and his sister Amelia Mayhoff gave Roosevelt and company a private tour of the mansion.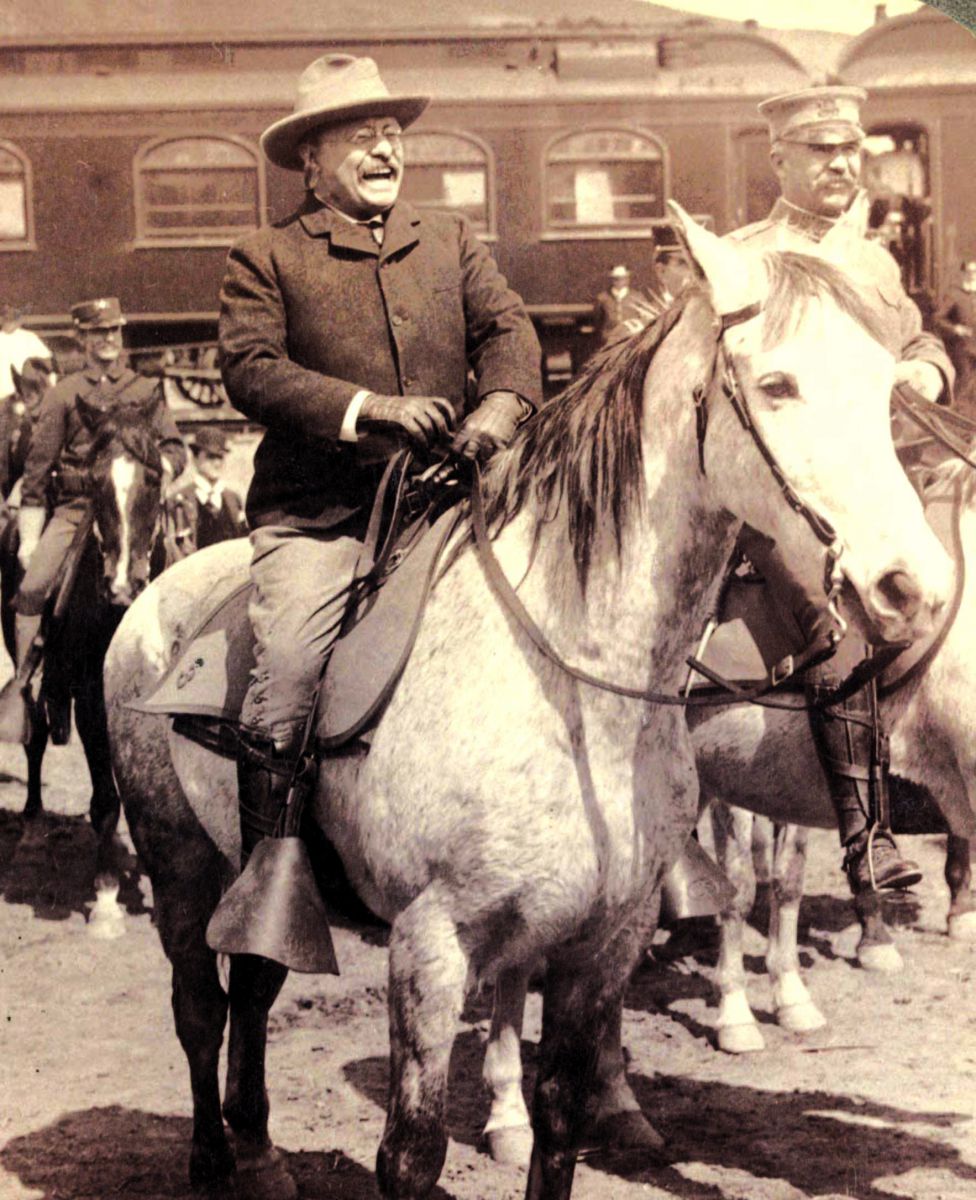 President Cleveland was running for re-election in the summer of 1888. He would lose to Benjamin Harrison, but would regain the White House after winning the 1892 election, becoming the only U.S. president to serve non-consecutive terms. As TR did, Cleveland took a special train to Charlottesville to attend what Post reporter David Lewsley called "the graduating exercises" at the University.
President Cleveland
Cleveland, a conservative Democrat—and the first member of his party to win a presidential election since 1856—also took time in C-ville to meet with "the most eminent surviving leaders of the ex-Confederacy," as Lewsley put it, "to sit at the same table with them, to eat and drink with them, [and] to make speeches in reply to toasts proposed by them."
After all that palavering, eating, and drinking, Cleveland and company paid a visit to Monticello. The party set out at 5:30 on a wet June afternoon.
Cleveland had balked at first, but U.S. Senator elect, 68-year-old John S. Barbour Jr. (below), who had been instrumental in bringing Cleveland to Charlottesville, convinced the president that "it would never do for him to return to Washington without having seen the home and the grave of Jefferson," Lewsley reported.
Sen. John S. Barbour, Jr.
So the cavalcade of "forty or fifty" carriages with Cleveland's in the lead took off "dashing and splashing and rushing through" downtown Charlottesville. The "whole town" was "out on the streets shouting and waving flags, handkerchiefs and hats," Lewsley wrote. "The house fronts were completely covered with flags and bunting fluttering in the breeze."
Cleveland sat with Virginia Gov. Fitzhugh Lee in that first carriage, an open one "drawn by four white horses driven by a skillful black man with a footman beside him in the box." Another important fact that Lewlsey noted: President Cleveland, a large man, and Governor Lee "together probably [weighed] about 600 pounds."
It was a rough slog up the mountain. The road, Lewlsey—who could turn a phrase—noted, "is of clay, very red, and when wet, as it had been made by the rain that day, very tough and sticky. Pulling through a bed of putty would be lubrication itself by contrast."
Many of the carriages didn't make it to the top. But Cleveland's—despite that not inconsiderable weight disadvantage—did. The first stop was Jefferson grave. It wasn't a big hit.
For decades after Jefferson's death visitors had vandalized his gravestone, taking dozens of chippings out of it. His family, which owned the graveyard at Monticello, began lobbying Congress in the late 1870s to build a new one. After years of wrangling, in April 1882, Congress appropriated $10,000 for a new monument over Jefferson's grave and for other improvements to the graveyard site. A new, 18-foot granite monument was placed on Jefferson's grave that fall. Repairs were made to six other graves, a new iron fence was installed, and the entire site graded, re-seeded, and re-sodded.
The paint and gold gilding on the fence looked "quite fresh" six years later, Lewsley reported. However, everyone—including the president—decided to stay in their carriages and not make the short climb up to the graveyard.
That's because, as Lewsley put it, there "seemed to be nothing to invite them to alight." The monument "looked cold and forbidding," he said. The tall iron railings were "haughty, exclusive, and threatening. There did not seem to be a gate or an opening in them anywhere. There was no way to get up close without climbing up the hillside on which the grass was wet and clay soft."
Cleveland sat in his carriage for a minute or two, and "without raising his hat or making any outward sign to show that the poetry in his soul was moving within him," ordered the driver to move up to the hill to the house.
The entrance to the house "was guarded by two dull red brick pillars" and an iron gate, Lewsley wrote. There was a sign on an oak tree that said, "No shooting or hunting will be permitted on these grounds. Jefferson M. Levy, owner."
Levy was on hand, along with several family members Lewsley didn't identify, to greet the president and his party. But he only allowed those with invitations to enter the house.
Of all things, Levy had several "gray-coated State Militia" men standing with fixed bayonets outside the door to keep out the uninvited. "If anyone attempted to intrude," Lewsley wrote, "he found a bayonet or two pointed at him." There also was a "big Irish tiger in Levy's livery," Lewsley said, "who is on the ground for such service every day."
Cleveland and company were ushered into the Parlor where Jefferson Levy and "his family" (most likely his sister Amelia Mayhoff and her husband Charles) greeted them and gave them a tour of the house.
The Levys, Lewsley noted, "try to preserve as much of the old order of things as is practicable, but the furniture and fittings have had to be somewhat modernized to meet the requirements of living to-day."
Cleveland enjoyed his visit "immensely, taking an eager interest in what was told him by the Levys." The last stop was a "nice new visitors' register that had been procured for the occasion," Lewsley wrote.
The first autograph was "Grover Cleveland, Washington, D.C."
EVENTS
:
Just one event on the calendar for September, but it promises to be a memorable one. I'll be doing a talk on
Saving Monticello
at Monticello on the West Lawn on September 20. It's the annual event for Monticello supporters.
I have more events coming up in October, November, and December. Stay tuned.
GIFT IDEAS

:

Want a personally autographed, brand-new paperback copy of

Saving Monticello

? Please e-mail me at

marcleepson@gmail.com

I also have a few as-new, unopened hardcover copies.
Or go to
marcleepson.com/signedbooks.html
to order copies through my local bookstore, Second Chapter Books in Middleburg, Virginia. We also have copies of
Desperate Engagement
,
Flag
, and
What So Proudly We Hailed,
and
Ballad of the Green Beret.