Saving Monticello: The Newsletter
The latest about the book, author events, and more
Newsletter Editor - Marc Leepson
Volume XIV, Number 5 May 1, 2017
IN THE NEWS:
It's not every day that
Saving Monticello
gets mentioned in a noted national publication. But that's just what happened in the April 27 edition of
The Wall Street Journal
.
Meir Soloveichik, the rabbi of Shearith Israel in New York City, wrote an article that appeared that day titled "The Jews Who Saved Monticello." In it Rabbi Soloveichik concisely tells the story of Uriah and Jefferson M. Levy's stewardship of Thomas Jefferson's Monticello, emphasizing the history of the Levy family—a family, he notes, "whose own story is every bit as American as that of Jefferson himself."
Rabbi Soloveichik goes on to say that Monticello today attracts visitors from "all over America." Yet, he writes, "as Marc Leepson notes in his book, Saving Monticello, for decades the Levys' role in preserving Jefferson's home wasn't celebrated." I sent the rabbi an email congratulating him on the article and thanking him for mentioning my book.
One reason for the article is an event that will take place at Monticello on Sunday, May 7. Rabbi Soloveichik will take a delegation of members of Shearith Israel (the oldest Jewish congregation in the nation and one in which several members of the Levy family worshiped) and a group of Yeshiva University students to Monticello. He will lead a Jewish graveside service (the Kaddish) at the grave of Rachel Levy, Uriah Levy's mother who is buried along Mulberry Row, along with a
memorial service for the Phillips family and for all Jewish American patriots.
As I wrote in the book
,
Rachel Phillips Levy was the first member of the family to live
in Monticello. Although we do not know exactly when her son moved her to Monticello, it most likely was in the late spring or early summer of 1836.
While Uriah Levy at sea, his mother died at Monticello on May 1, 1839. Lt. Levy apparently did not find out until six months later when he arrived at Monticello after his cruise ended and his ship put in at Norfolk. The manager of Monticello, Joel Wheeler, had gotten in touch with Uriah's siblings Jonas and Amelia when their mother died and they arranged to have her buried near the house. She is the only member of the family buried at Monticello.
The tombstone Uriah Levy later erected included the Hebrew month and year of his mother's death. It is inscribed: "To the memory of Rachel Phillips Levy, Born in New York, 23 of May 1769, Married 1787. Died 7, of IYAR, (May) 5591, A.B. (1839) at Monticello, Va."
For many years after Jefferson Levy sold Monticello to the Thomas Jefferson Memorial Foundation in 1923, Rachel Levy's grave was all but neglected. However, that situation changed markedly when Dan Jordan took over the Foundation in 1983 and the following year ordered the refurbishing of the Rachel Levy grave site and placing a plaque there honoring the family.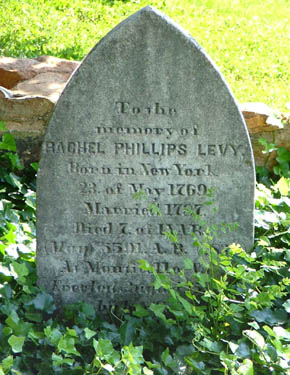 On June 7, 1985, several Levy descendants, including Harley Lewis, a great grand niece of Jefferson Levy and several dozen guests, took part in a commemorative ceremony at Monticello. The event included an address by Edgar Bronfman, the head of World Jewish Congress and CEO of Joseph E. Seagram & Sons, a scripture reading by by Bernard Honan, the rabbi of Charlottesville's Temple Beth Israel, and a prayer by Louis C. Gerstein of Shearith Israel. Harley Lewis ended the ceremonies by unveiling the new plaque at her great-great grandmother's grave.
The Kaddish this month marks the first Jewish ceremony at the grave since then. The day also will include a Conversation on Religious Freedom with Rabbi Soloveichik and the noted historian and biographer
Jon Meacham at Monticello

sponsored by the Thomas Jefferson Foundation.
To read the entire
WSJ
article, go to
http://bit.ly/SavingMonticello
AMERICAN SPIRIT:
Here's some more
Saving Monticello
news: The editor of
American Spirit
magazine, which is published by the Daughters of the American Revolution, asked me to write an article for the May/June issue on the DAR's involvement with the 1912-17 campaign to take Monticello from Jefferson Levy and turn it into a government-run shrine to Thomas Jefferson.
The DAR did not initiate the proposed takeover. The historic-preservation-minded hereditary organization was called on by Congress to offer advice on how to run the place after it became a federally owned house museum. I covered that aspect of the story in Saving Monticello and adapted what I wrote in the book (and added a few things) in the article, which is the cover story of the just-published issue.
The title: "Saving Monticello: How DAR Nearly Came to Control Thomas Jefferson's Home."
MAY 6 IN SAVANNAH
: I will be doing a talk on
Saving Monticello
and a book signing on
Saturday, May 5,
at
Congregation Mickve Israel
in Savannah. The talk will follow that morning's services, which begin at 11:00 a.m, and the Kiddush Lunch, which starts at 12:15. The event is open to the public, although reservations are required (for $10). To do so, or for more info, email
resvp@mickveisrael.org
or call 912-233-1547.
MORE EVENTS
:
My new book, the first-ever biography of Barry Sadler, has just been published. For more info on
Ballad of the Green Beret,
go to
http://bit.ly/GBBallad
Here are my May events, in a nutshell:
Friday, May 5 – 7:30 p.m talk on Flag: An American Biography following Friday Night services and dinner at Congregation Mickve Israel in Savannah. For reservations, call 912-233-1547 or email resvp@mickveisrael.org
Saturday, May 6 – Talk on Saving Monticello at Mickve Israel. See above for details.
Sunday, May 7 – 2:00 p.m. talk on Ballad of the Green Beret and book signing at City Center Gallery and Bookstore in Fayetteville, North Carolina. 112 Hay St. Fayetteville. For info, call 910-678-8899, send an email to citycentergallery@embarqmail.com or go to http://bit.ly/F-ville
Monday, May 8 – 12:00 noon talk on Ballad of the Green Beret and book signing at the Library of Virginia, 800 E. Broad Street, Richmond, Va. Free and open to the public.
Thursday, May 25 – 7:00 p.m. talk on Ballad of the Green Beret and book signing at The Hill School, 130 South Madison Street, Middleburg, Virginia. The talk is free and open to the public. For info call, 540-687-5897.
Monday, May 29 – 3:00 p.m. talk on Flag: An American Biography, and book signing at The Glebe Retirement Community in Daleville, Virginia. Free and open to the public. For info, call 540-591-2148.
If you'd like to arrange an event for Saving Monticello—or for any of my other books, including Ballad of the Green Beret—please email me at marc527psc@aol.com
For details on other upcoming events, go to
bit.ly/SMOnline
That's the Author Events page on my website,
www.marcleepson.com
Gift Ideas

:

If you would like a personally autographed, brand-new paperback copy of

Saving Monticello

, e-mail me at

Marc527psc@aol.com

I also have a few as new, unopened hardcover copies. Or go to

marcleepson.com/signedbooks.html

to order copies through my local bookstore, Second Chapter Books in Middleburg, Virginia. We also have copies of

Desperate Engagement

,

Flag

,

Lafayette,

and

What So Proudly We Hailed.